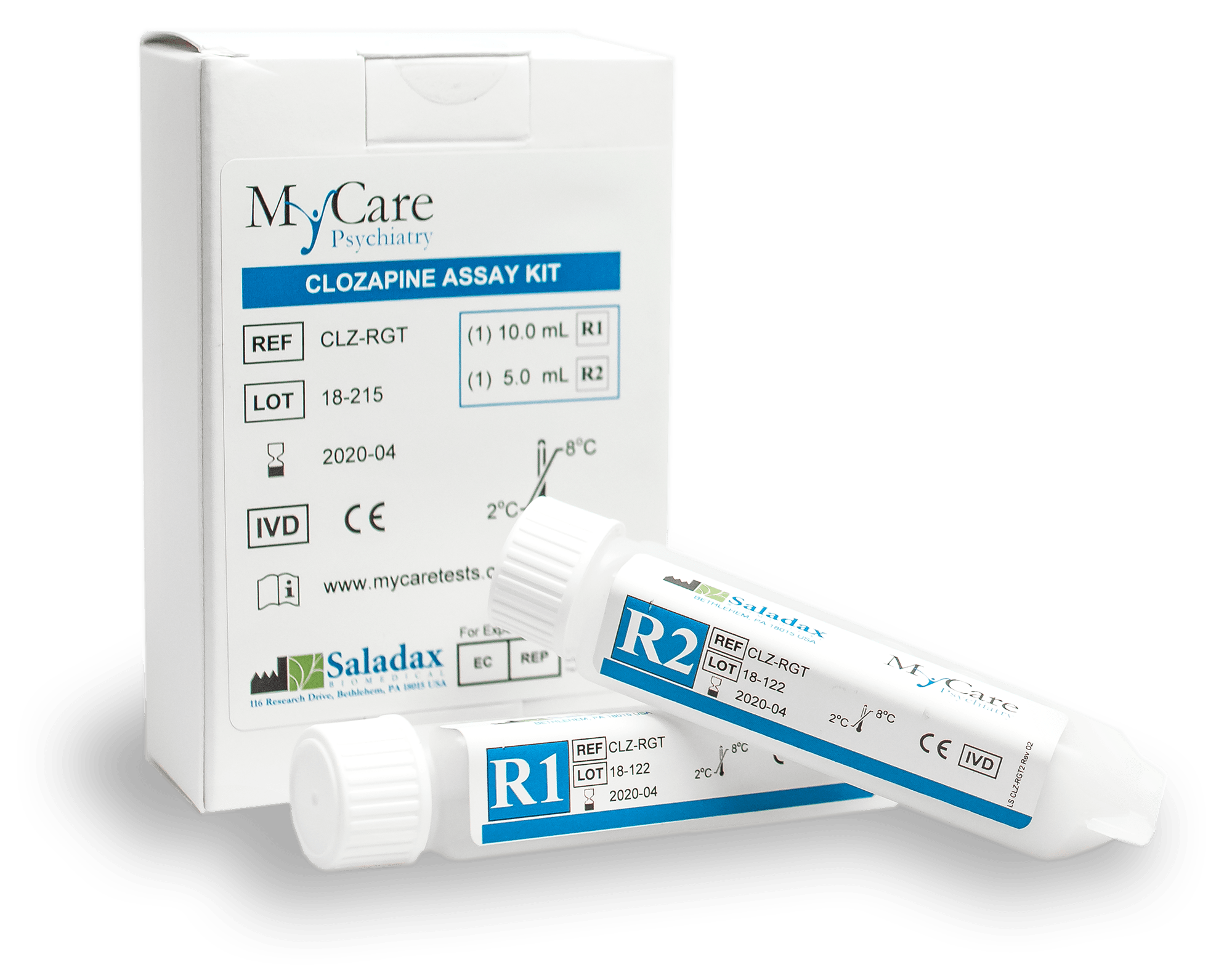 The Only FDA-Authorized Clozapine Test
Many clinicians agree that clozapine is effective in treatment resistant schizophrenia; however, it is underutilized because of concerns of its side effects and the inability to have samples tested in a timely fashion. Saladax's test now offers clozapine blood levels within minutes, not days. Providing clinicians timely insight into their patient's clozapine treatment along with enhancing the efficiency of lab results.
Clozapine Product Documents
The MyCare Psychiatry Clozapine Assay Kit is intended for the in vitro quantitative measurement of clozapine in adult human serum using automated clinical chemistry analyzers. Measurements obtained can be used to aid in the management of individuals prescribed clozapine for treatment-resistant schizophrenia. This assay should be used in conjunction with other clinical and laboratory findings and results from this test alone should not be used to make treatment decisions.
View Product Performance & Expected Values
The APA's draft guideline on schizophrenia treatment recommends  that measuring clozapine blood levels can be useful
during clozapine dose titrations
when there are questions of medication

adherence,
efficacy,
toxicity,
medication interactions

concern over other factors that may influence clozapine levels
Antipsychotic Product Performance
Assay Range ng / mL
Within-Laboratory Precision, %CV
Method Comparison to LC-MS/MS
Low Control
Medium Control
High Control
Slope
Intercept
Correlation Coefficient
68 – 1500
5.4
4.4
4.5
1.037
-27.8
0.9269
There is no definitive clozapine level that is associated with efficacy or toxicity. Efficacy for the majority of patients will be highest at levels above 350 ng/mL. For some other patients, however, clozapine levels as low as 200 ng/mL will provide response or prevention of relapse.1
As for any laboratory test, the clinical context should be taken into consideration when interpreting clozapine result. For example, assess dose related side effects and clinical evidence of toxicity if a clozapine level is higher than expected. Then if that patient's clinical status is not consistent with toxicity, determine the timing of the blood sample (e.g. peak vs. trough) and identify any potential drug interactions, changes in smoking status or incorrect specimen identification. Poor adherence, drug interactions or changes in smoking status may be relevant when clozapine levels are much lower than expected.
Compare assay results to results expected based on previous measurements, subject's baseline, suggested therapeutic range or values expected for the individual.
Request Information
If you are interested in ordering a test kit, please contact our USA headquarters via the contact information below, or fill out the contact form.
USA Headquarters
116 Research Drive,
Bethlehem, PA 18015
+1 (610) 419-6731